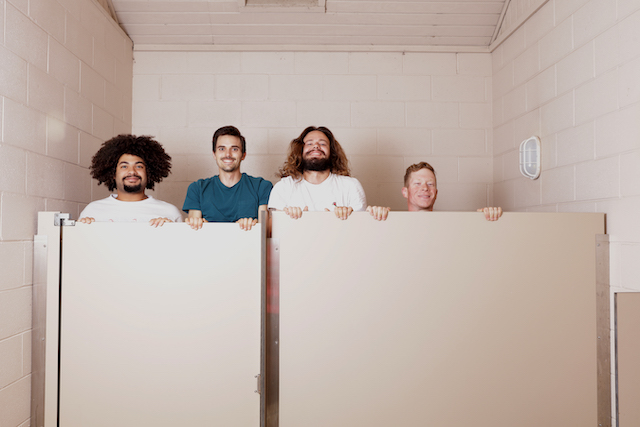 What's your sign?
Matthew Spruill: Capricorn
Cohner McCurry: Road Work Ahead
Chris Click: Cancer
Kent Woods: Gemini
Most underrated song that, in your opinion, should be a classic:
MS: "Neon"—John Mayer
CM: "Through the Roof and Underground"—Gogol Bordello
CG: "Runaway"—Mo Lowda & the Humble
KW: "Tell Me With Your Eyes"—Rob Galbraith
Biggest compliment you've ever gotten from a fan?
MS: "It was like watching Jimi Hendrix up there!"
CM: "I bet you could play Primus."
CG: They say I sound like Bonham.
KW: Honestly, most of my friends were all very receptive to my EP "Yes, Anderson," and that was a huge compliment.
What is your favorite piece to perform?
MS: Our original song "Compass"
CM: "Budapest" (Love Song)—One of our originals
CG: "Appreciate the Absurd"
KW: Our original, "Appreciate the Absurd"
What do you sing in the shower?
MS: Whatever song I'm working on at the time.
CM: Black Sabbath
CG: Mac Miller
KW: "These Eyes," by The Guess Who
Favorite cereal?
MS: Honey Bunches of Oats
CM: Honey Bunches of Oats
CG: Cinnamon Toast Crunch
KW: Kashi Go Lean Mixed Berries
At what venue do you most like to perform?
MS: Freeport Marina on Daufuskie Island
CM: Boardroom
CG: Tiki Hut or Freeport Marina
KW: I love playing on Daufuskie Island, but Corks has always been really good to us.
Most requested song at shows?
MS: Any Jimi Hendrix song
CM: Pretty sure it would be "Mary Jane's Last Dance" if it were not for Joey Hodges and Brandon Ashcraft constantly asking for Foxsquirrel (thank you).
CG: "Mary Jane's Last Dance"
KW: It will invariably be "Free Bird" because that joke will never get old, apparently.
First concert you attended?
MS: John Mayer in Charleston, S.C.
CM: Slayer
CG: Elton John
KW: My dad and I got tickets to see Led Zeppelin on their 2010 Mothership Tour, but it turned out to be a cover band. Still had a great time.
Favorite artist?
MS: John Mayer
CM: Modest Mouse
CG: Tattoo artists
KW: Bibio. It's hard to narrow it down to just one, but as far as someone who impresses me at every level of artistic creation, he definitely fits.
Place you go to get away from it all?
MS: The mountains in the colder seasons
CM: Pisgah National Forest, but just driving does the job.
CG: The beach
KW: There's a beach out on St. Helena in Beaufort that is a pretty well-kept local secret. I love going out there with my dog Gemini and my fiancée Kincaid.
Do you tweet, gram or book? What's your handle?
MS: Mostly just Facebook for meme sharing
CM: Only use Facebook, but anything else, McCurrency69
CG: _glicktrack
KW: I do indeed! You can follow me on Facebook and Instagram at @kentwoodsmusic. I also have a YouTube page where you can watch the music video I made for our song "Appreciate the Absurd."
Who would star as you in the epic retelling of your life on film?
MS: Donald Glover
CM: Robert Downey Jr. in Tropic Thunder
CG: Evan Peters
KW: My favorite comedian, Tim Dillon
First instrument you ever learned to play?
MS: Violin
CM: Diddly Bo
CG: Tried guitar first; drums just clicked.
KW: Guitar
Song you were thrilled to finally master?
MS: "Black Magic Woman"
CM: "Iron Man," by Black Sabbath
CG: "Forty Six & 2," by Tool
KW: "Politicians in My Eyes," by Death
What do you wish you knew more about?
MS: "Up dog"
CM: Magnets (how do they work?)
CG: Investment/stocks
KW: Astrology and holistic medicine
What animal do you most identify with?
MS: The axolotl
CM: Axolotl
CG: Wolf
KW: The fox panda
If you got super-famous and had to change your name, what would your new name be?
MS: Keith Matthews
CM: Kent Woods
CG: Rex Colt
KW: Carlo Erba-Odescalchi
What famous musician would you love to sing a duet with?
MS: John Mayer
CM: Tom Waits
CG: Post Malone or J. Cole
KW: Levon Helm