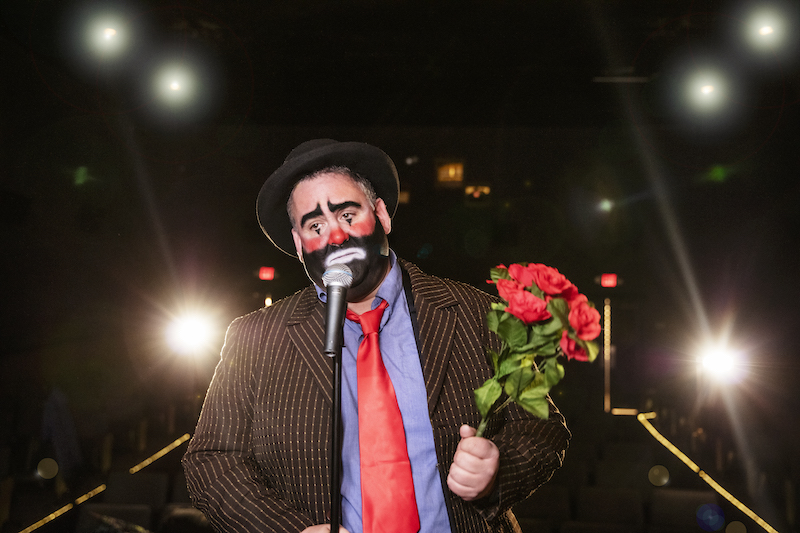 For the past dozen years, since punting on a corporate career path for the island life roller coaster that has proved the perfect match for his frenetic energy, Stock has been boosting and promoting others selflessly while intermittently inching his way toward his own spotlight.
The steady build hits a crescendo Feb. 24 in the space where he has enthusiastically watched his musician friends crush it for years. With "I'm Not Alright: An Evening of Positive, Inspirational Comedy," the jovial Everyman and the South End's best-kept secret becomes the bankable box office headliner.
No pressure. Literally.
"I'm not nervous, there's no pressure," Stock said. "This is such a big opportunity that failure is not an option. I've been working this plan for a bit now, and this is a huge box on the checklist that I can check off. That's exciting, not pressure."
Stock grew up in East Greenville, Pennsylvania, a town of 3,000 about 45 miles northwest of Philadelphia. "I was real quiet. I didn't come out of my shell until my teens, but I always loved comedy," Stock said. "Sam Kinison, George Carlin, Eddie Murphy … I just loved it. The 12:35 a.m. Letterman, that was my happy place."
The Pitt grad worked in print media and publishing for 11 years in Philadelphia before deciding to make a move up I-95 to New York City. He sublet an apartment for six months, starting the week the stock market crashed in 2009.
"I could not even get a job interview there," he said. "My parents lived in Hilton Head by then, so I decided to come bartend for a summer and lick my wounds." He worked the door at The Lodge and quickly got entrenched in the island food and beverage scene.
"I am a music nerd and junkie, so being around live music, that was kid-in-a-candy-store stuff for me," said the self-described "emotionally-stunted man-child."
Stock was one of the first four employees at CharBar, where he first got a chance to book music acts and showed a true knack for spotting young talent while at the same time befriending the upper echelon of the island's performers. But his time as GM of CharBar eventually morphed him into a jaded soul few of his newer fans would recognize today.
"I was burned out on the restaurant industry. I was one profoundly unhappy cat and not proud of it," he said. "I was an angry person, drinking too much, self-medicating, kind of an island burnout cliché."
Then came the moment that changed his life trajectory, courtesy of island icon John Cranford. Stock had been in Cranford's creative orbit for years, a rocker he saw as the entertainment gold standard. Little did he know the admiration was mutual, that is, until Cranford approached him at a wedding in 2017 and asked him to help revive Southender Magazine.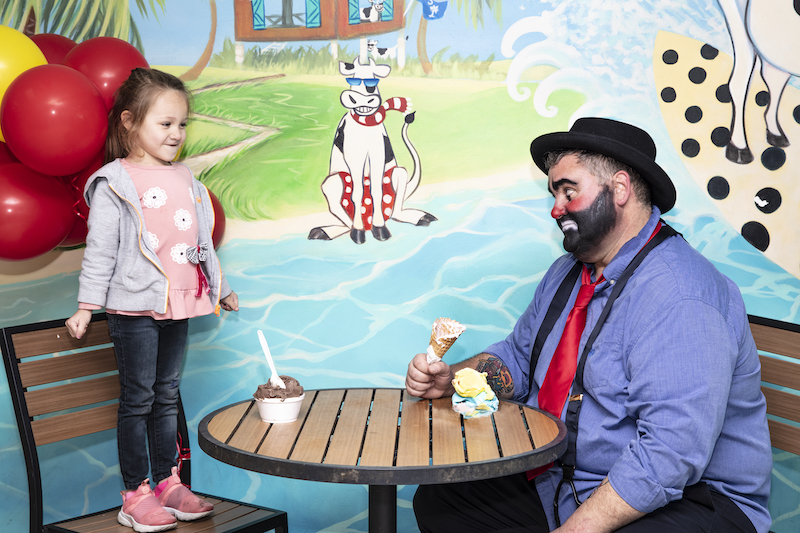 "John had started it as a zine a decade back, but he wanted to do a full-blown magazine, and we did 12 full monthly issues," Stock said. "Man, he saw something in me I didn't even see there. And it got me out of my rut, exposed me to all corners of this crazy island, let me soak in and show off every facet of why I love this place. I was out there every day meeting people, and it was just incredible."
The duo decided to switch to a digital version two years ago, which gave Stock the opportunity to show off his personality on-camera. "I'm doing all these interviews, talking to cool people. What's not to love?" he said of the pivot. The videos gained traction as Stock rode his trademark scooter around the island, interviewing interesting islanders. His signature voice—equal parts cheery and raspy, a tone well informed by 30 years of puffing Camel Lights at a pack-a-day pace—and his genuine warts-and-all presentation won him a cult following. And they caught the attention of Lee Lucier, who, after years of admiring his F&B grind and boundless creativity, asked Stock to be general manager of the Coligny Theatre in March 2020.
Stock had a different vision for the famed edifice first opened in 1972, whose latest incarnation had been as an arthouse theater for upscale audiences. He wanted to make it a place that screamed fun and entertainment for all ages.
"There are so many classic films from the '80s that a lot of folks know but never saw on a big screen," Stock said. "I wanted to be a nostalgia merchant with the movies but also use the stage for music, fashion shows, comedy—just try anything and everything to entertain folks and put a smile on their faces.
"It's so much like the theater three blocks from me growing up. I remember Ferris Bueller, Alien, holding a girl's hand for the first time. Pop culture and entertainment was part of so many life memories for me, and I get to give that to others here. How cool is that?"
With the keys to Coligny, Stock went all-in on creating viral and memorable ways to promote the venue (his mohawk and mutton chop appearance on WHHI-TV in December 2020 is my favorite).
Even in the midst of COVID, Coligny quickly became a brick-and-mortar extension of Stock's social media persona. One word comes to mind reading his Facebook feed: passion. Whether for his island co-workers and friends, his parents, Pitt and Eagles football, the Rolling Stones, Mariah Carey or Britney Spears (he was the informal leader of the Lowcountry #FreeBritney brigade), Stock's raw and endearing appreciation of people and moments is instantly evident.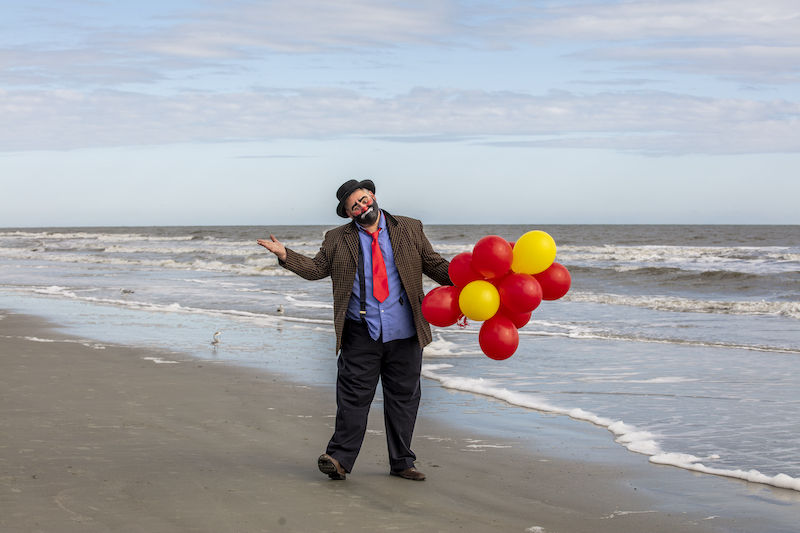 "It's easy to overthink things sometimes; we all do it. I'm still figuring sh*% out myself, but if I can give you any advice it's this," he said in a June 2021 post. "Surround yourself with people you love that work hard and are the best at what they do. The rest falls into place."
His missives are poignant at times, but snarf-your-coffee funny constantly. And yet, Stock never considered himself worthy of being a comedian. "I think I have a sense of humor; I like to make people laugh, but the idea of doing it on stage always felt out of reach," he said.
That changed two and a half years ago when Brian Eason suggested a fundraiser for St. Jude's at Coligny called Laughs Against Cancer, putting the funniest folks he knew—including Stock—on stage for 5 to 10 minutes each.
"He said, 'Hey, if we all bomb, at least we tried.' I thought I had put together a tight five minutes, and I got up there and just fell in love. It was everything I dreamed of and more. And I got a steady flow of true laughs, not pity giggles."
A roast of Cranford at the Swampfire Records tenth anniversary party drew him more laughs and more folks encouraging him to get on stage. He kept booking comedy showcases, working on his set, slowly compiling 10, 20, 30 good minutes. 
That led to the next cliff dive, booking himself as the headliner in a show in May, "Man of the People," which sold out quickly. Turns out karma loves to laugh: all the folks that he'd promoted through the years bought tickets and none of them left the 200-seat theater disappointed.
The Roasting Room was always going to be the next test. Stock is a regular at the Old Town Bluffton venue, watching local legends and friends like Jevon Daly own the stage.
"It is the top of the top around here—everything from the silky sound to the posters to the promotion, Jordan Ross just absolutely owns it," said Stock, who approached Ross about trying out a comedy show in the intimate venue. "I love being in that atmosphere. I want to surround myself with the best of the best to constantly push myself."
The test balloon became the fastest sell-out in the venue's history, beating even Daly and Cranford for the honor. Ross (who calls Stock a "mythical creature" in the show's website tease) added a second night, which sold out just as fast. Stock found himself constantly hitting refresh on the browser, giddy with disbelief as he watched the ticket sales in real time.
"It was just surreal. Jevon owns the most sellout trophies there with six, but I'm going to chase him," Stock said. "To be performing in the place where I watch idols of mine slay it weekend after weekend, it's crazy to me. I never thought I had the talent of a Martin Lesch or a Kyle Wareham, but I'm starting to believe I just might have the chops for this comedy grind."
The rise will be televised. Buddy and star videographer Trevor Harden will film the performance with plans for an "I'm Not Alright" documentary.
The years of promoting others was never quid pro quo. It's why he has legions of fans believing the Lowcountry's nicest guy will finish first.
"I haven't bombed yet on stage, but it will happen. I'll have to play open mic nights, play more hostile and neutral rooms in Savannah, Jacksonville, Charleston and beyond," said the now 47-year-old Stock. "I'll fight to get five minutes on stage anywhere that will have me. I've never wanted anything more professionally. If anything, I wish I'd started sooner, but believing in yourself, that's time consuming."
And for those worried he'll leave his island crew behind, don't. Stock said Coligny, his friends and gigs like his Friday nights holding court behind the bar at Cool Cats Lounge will always be the foundation that fuels his creativity and drive.
Is he the next big thing? Audiences will be the judge, but there are definites in the coming unknown based on Stock's time on the island. No one will work harder and have more fun riding the inbound wave than the man who one day hopes to be hosting a variety show on your TV.
"Hey, you got to dream," he said. "I've never tried to resonate. People see right through fake. The ups and downs, I've lived, man. It's been a jam-packed Choose Your Own Adventure book. I'm just going to be honest about everything, find the funny in my journey and do my thing."