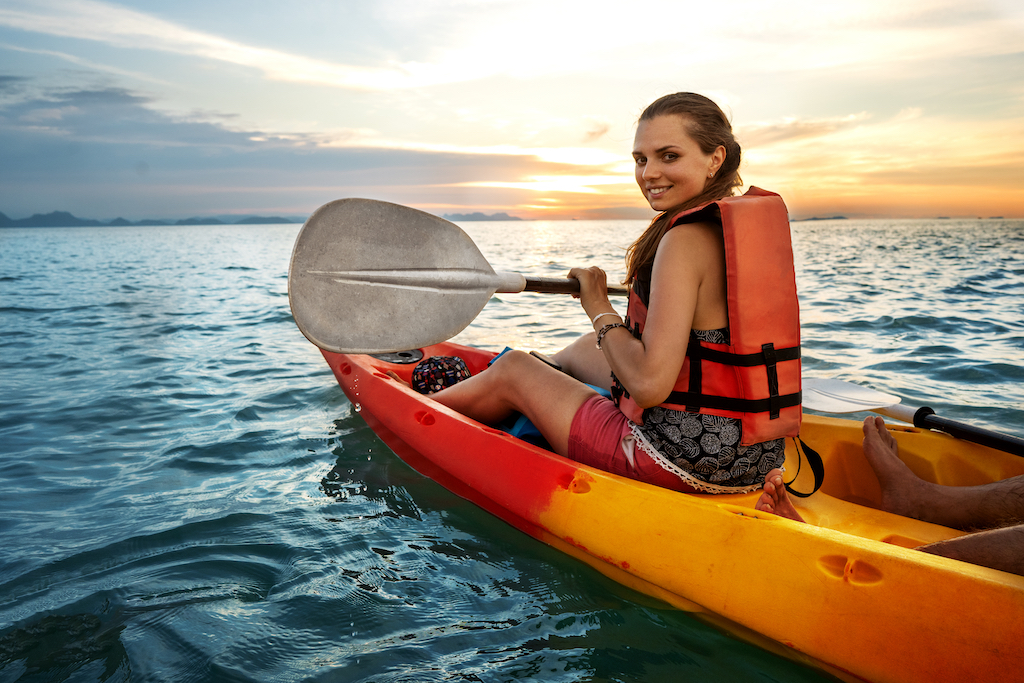 If it ever feels too crowded on land, get out on the water. Well over half our local area is comprised of wetlands—marshes, rivers, creeks, beaches, little islands and freshwater swamps—and for the most part these estuaries can never be developed. They will remain open, free, uncluttered by human enterprise, ripe for exploration. One of the best ways to do this is by kayak.
Paddling 101
Hundreds of thousands of watery acres make the Lowcountry a premiere kayaking destination for beginners and experts alike. Conditions are calm and pleasant for much of the year, with mild temps and gentle glassy creeks. One basic thing to keep in mind is that most local kayaking will be in saltwater, which means it's important to understand tidal change. Trying to paddle against wind and current will make for an unpleasant if not dangerous trip! Check the tides and weather reports before even the most casual outing. Tours with local outfitters can be a great way for beginners to safely and comfortably start exploring. Guides will offer paddling instruction, safety tips, information about flora and fauna, and perhaps even a few tales about their own experiences on the water.
Types of kayaks
If you are considering purchasing a kayak or even just renting one, there are a number of options. Sit-on-top kayaks are popular with recreational paddlers as they are comfortable, stable, economical, easy to get in and out of, and nearly impossible to capsize. The trade-off is that they are not as fast or maneuverable, and they are best for summer when you don't mind getting wet, since the "self-bailing" feature is just holes in the bottom that let water drain back out as fast as it comes in.
Touring kayaks are for more serious paddlers, with better performance and a higher price tag. They are faster, smoother handling, safer in foul weather, and often have storage hatches for gear so you can do multi-day trips. Wide variation in length, weight, hull design, etc. means you can find one perfect for your needs. Unlike sit-on-top kayaks, they are appropriate for cold water and weather since you can stay dry sitting down in the cockpit. Day-touring kayaks are the less ambitious choice, while sea kayaks are for serious paddlers with money to invest.
Tandem kayaks can be fun for couples, friends, and adults with children. Inflatable and folding kayaks are space-savers for the cruiser, apartment dweller, or someone on a travel expedition with a paddle component.
Whitewater kayaks would only be appropriate for the mountains. Fishing kayaks allow anglers to silently get up in the remotest of creeks, making them a popular choice for this area. They come equipped with rod and cooler holders and are stable enough that you can stand up and tug on your line. Online research or consulting a local outfitter can be helpful if you're not sure what kind of kayak you should buy.
Safety tips
Despite the calm beauty of this area, there are plenty of dangers to be wary of. The sun and heat can be a serious concern since most paddling will be open with no shade. Getting an early start is critical in summer, while wearing sun protection and bringing plenty of water is important year-round. One of the biggest local hazards is the oyster bed. Paddling over one in shallow water will damage the bottom of your boat, and capsizing on oysters will cut you to shreds. It is advisable to wear athletic shoes rather than open-toed shoes when kayaking to protect your feet if anything should go wrong.
The ten-foot tidal change we experience here means that venturing into a little creek on an outgoing tide may cause you to get stranded in the mud. Learn to read tide charts so that, ideally, you can paddle with the current as much as possible rather than battling against it. Estuaries can become like a labyrinth for those unfamiliar with them, especially at low tide when spartina grass rises on either side to block your view of the area. There's nothing worse than that sinking feeling of being lost, so carry a chart or GPS and pay attention to your surroundings. Know that making open crossings presents higher risk, as the wind will be stronger and boat traffic can be dangerous to paddlers, potentially capsizing them with a careless wake.
Especially in summer, squalls can whip up out of nowhere. Getting caught on the water in a thunderstorm is not a good scenario! Always check weather reports before you go out. If you plan on doing any serious paddling, consider carrying a waterproof VHF radio on which you can receive emergency weather alerts and issue distress calls. Other signaling devices include whistles, flares and mirrors. You should also carry a spare paddle, jacket, life vest, waterproof matches, and extra food and water. It's best to paddle with others, but if you go alone, at least tell a "safety buddy" where you are going and when you plan to be back. You may also want to take a class in more advanced paddling techniques such as bracing, Eskimo roll, wet exit, and how to reenter a capsized kayak.
Wildlife
The slow, quiet nature of paddling makes it an ideal way to steal up on wildlife and observe them unobtrusively. Common sights include bottlenose dolphins, small sharks, and a staggering array of birds such as great and snowy egrets, several types of herons, ospreys and bald eagles, ibis, wood storks, kingfishers, clapper rails and the occasional roseate spoonbill. You may also catch a glimpse of otters, manatees or loggerhead sea turtles. Peer down while cruising the shallows and you will see flounder, skates, rays and crabs galore. In summer, the shrimp pop around you in sprays as they are chased by bigger fish. A night paddle this time of year will reveal glowing phosphorescence every time you stroke your paddle. In brackish or freshwater, expect to see alligators—be mindful but not fearful! They want to avoid confrontations as much as you do. All wildlife should be kept at a respectful distance, including dolphins, and remember it is illegal to feed them.
Places to go
There are endless options for incredibly scenic paddling—start at any local launch and explore from there! The SCDNR website has an interactive map of all public boat ramps in the state, both freshwater and saltwater.
Some hometown favorites include the May River (from Bluffton Oyster Company), Bull Creek (from Alljoy Beach), Pinckney Island (from Buckingham Landing), Colleton River (from Trask Landing), and Broad Creek (from Shelter Cove Marina.) A little farther afield there is Chechessee Creek and Lemon Island (from Edgar C. Glenn boat ramp in Okatie), Hunting Island State Park outside Beaufort, and the ambitious crossing to Daufuskie Island (not recommended for beginners and best done on guided tour). For a unique freshwater experience, try going up the New River from Highway 170 bridge (watch for alligators!) or Ebenezer Creek in Rincon, Ga., to see incredible old-growth bald cypress.