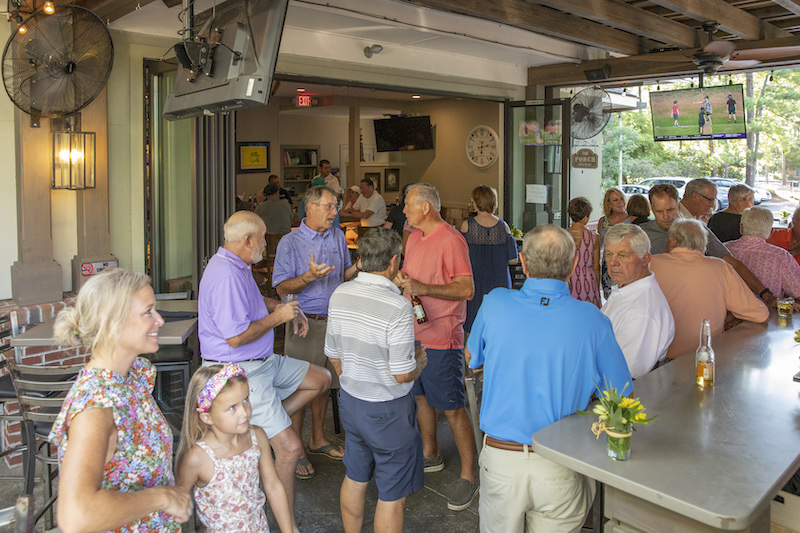 It's no secret that many of Hilton Head Island's most popular restaurants are hidden in the quiet corners of our world. They are not necessarily the ones with a water view or a billboard on I-95, but when you want to find them, follow a local.
If a packed parking lot on a Tuesday evening with mostly South Carolina tags is any indication, then Mixx on Main, open since 2018, is a prime example of a restaurant doing right by the locals. The north end bistro and bar, tucked into the woods next to a bank, not only survived the pandemic but came out all the better on the other side. That's thanks to the loyal clientele who continued to patronize the restaurant by ordering takeout and supporting the outdoor footprint. Now, they're enjoying indoor seating again along with an expanded deck for al fresco dining and newly renovated patio space, which opens to the inside bar for a bigger, better after-work and happy hour experience.
"I can only be thankful for the regular patronage that we have received from our surrounding plantations—Hilton Head Plantation, Indigo Run, and Palmetto Hall. They are the core of our business," said Patsy Delello, who owns and operates the restaurant along with his lifelong friend and investment partner Daryl Booth. "We do get vacationers, but our livelihood is based on being a local establishment." Of course, everyone is welcome, and now that word has gotten out, they have regulars coming from as far away as Sea Pines and Sun City (along with lucky visitors who discover them on Trip Advisor or are fortunate enough to be tipped off by a local).
Food and service
While Delello, a resident of Hilton Head Island and familiar face on the local restaurant scene for going on 40 years, is excited about his recent expansions, he knows it takes more than a pleasant venue to entice the number of repeat diners Mixx on Main is drawing. It's the quality and consistency of the food and the friendly, attentive service that make the customer experience so inviting.
Delello is extremely proud of their menu offerings and the quality of the food they serve. As the name implies, the food is a something-for-everybody mix—a masterful blend of all-American favorites, Mexican fare, Italian specialties, fun bar food, and more. Whether you're in the mood for a taco salad, a sizzling steak, a plate of authentic spaghetti and meatballs, a lobster tail, or fresh grilled shrimp, you're sure to find exactly what you're craving. "And everything is fresh—from the seafood to the produce to the hand-pattied burgers," Delello said.
Guests, and especially those who come regularly, also appreciate the creative daily specials listed on the ever-changing chalkboard. "We have five or six daily lunch specials along with five or six daily dinner specials. It gives us the opportunity to 'Mixx it up' with a variety of new or seasonal ingredients not on the regular menu," Delello said.
But even delectable food is not always enough to keep people coming back for more. Often, how we are treated is the ultimate allure.
"We are really well received for the quality of our food, but the people who serve it also play a big role," Delello said. "Most of my staff has been with me from the beginning. To be successful, you need a core group who really believe in what you're doing and how you take care of the regular customers. They are not just order takers. They get to know everybody's names, and people feel comfortable because of that.
"We are also extremely excited to have added Zach Krimm to our staff. Originally a 16-year employee and bartender of the Reilley Group, his following and great customer interaction has been a terrific addition and asset in moving the restaurant forward."
Fall surprise!
The exciting news ahead is that, starting on September 11, Mixx on Main will be open Sundays from noon-7 p.m. The "kitchen" moves outdoors on Sunday to create a cookout/tailgate vibe, perfect for family fun, mingling with friends, and Sunday sports. All seating options will be available but expect to see Delello behind the grill and a smorgasbord of sides set up on the new patio.
Mixx on Main does not currently accept reservations, however, patrons are encouraged to call about 10 minutes prior to arrival to save time in the event there is a wait list. The main parking lot is next to the restaurant with spillover spaces next door after 4 p.m.
Come on over to Mixx on Main and see what the fuss is about. For directions, set your GPS to 87 Main Street … or just follow a local.
Mixx on Main is located at 87 Main Street, Hilton Head Island, serving lunch and dinner, Monday-Friday from 11 a.m.-9 p.m., Saturday from noon-9 p.m., and a Sunday cookout from noon-7 p.m. For more information or to put your name in the hat for a table, please call (843) 842-MIXX (6499).
---
Rave Reviews 
(From the neighborhood and the web)
Neighborhood favorite
Mixx is one of those places to go when you don't feel like cooking, when you need to meet a friend or colleague for lunch, or when you just want to go out for a bite to eat and not have to worry about tourist traffic. They have a menu that pleases all, wonderful daily specials, and a great, friendly, hardworking staff. Mixx is our neighborhood restaurant that never disappoints!
—Christina Dzendzel
Great for takeout
Mixx is our go-to favorite takeout place during the week. Food is always excellent. Service is fast. Never disappoints. The street tacos, fajitas and "Mixxadillas" are our family's favorites!
—Scott Pritchard
One of our favorite restaurants
We just returned from outdoor dining at Mixx on Main. As always, the food is excellent. Great service. Prices are right. We've always enjoyed dining there.
—Mary Faith and Greg H.
Best kept secret
Best kept secret on Hilton Head Island is Mixx on Main. Great variety of food for lunch and dinner at a reasonable price. Friendly staff. A great happy hour. And I would put their prime rib up against any big time steak house. Mostly a local spot, but worth searching out.
—cruzchix
Excellent all-around restaurant
Mixx may well be my favorite restaurant on the island. The ambiance, service, food quality, and price points are excellent. I've eaten there many times, have tried different food selections, and all have been excellent. Their prime rib is about as good as it gets, and the price cannot be beaten. The Mexican selections are better than most Mexican restaurants. I highly recommend it.
—captmorgan40