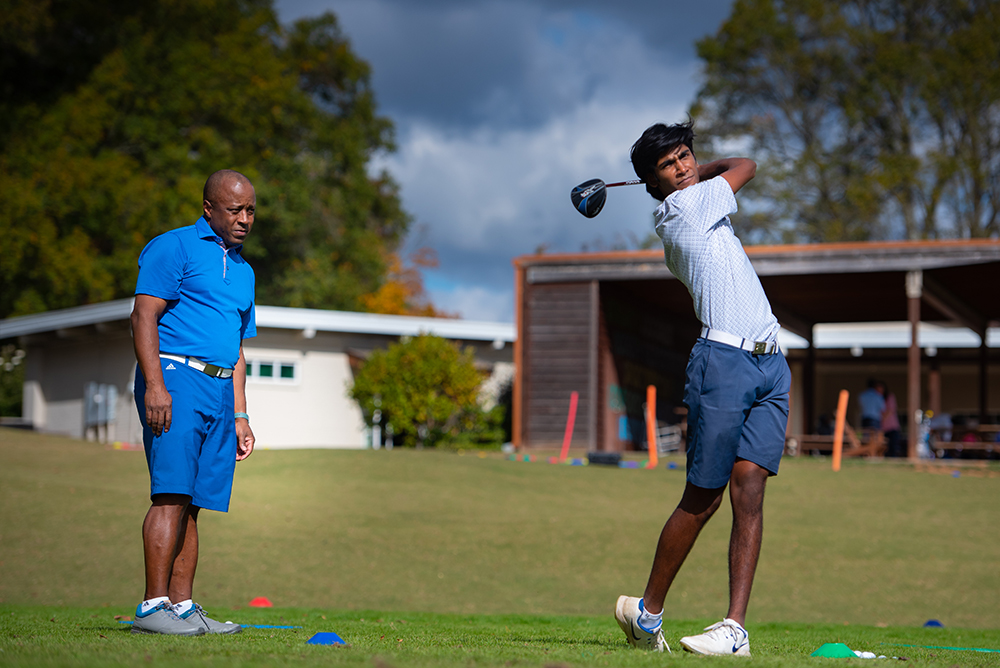 It's been on the calendar for months, circled in ominous red pen, and yet you ignored it until it was too late. And now it's here. The end of the school year. And the beginning of summer.
Suddenly, the kids are in the house. Not just in the morning, not just on weekends, but all the time. It's COVID all over again, but this time there are no Zoom classes to keep their minds focused. For parents, it can be a nightmare scenario.
But there is hope. There is a way to not only get them out of the house, but to help them keep their minds engaged while teaching them valuable life skills. And it's a program they've probably already had some experience with in school, one that they probably raved about when they got home.
First Tee of the Lowcountry is helping keep our area kids engaged all summerlong with a series of golf and life skills summer camps, starting the week of June 6 and running four days a week through July 18. You might just think these camps are all about putting, driving and working on your short game, but there's a little more to it than that.
"These camps are pretty three-dimensional," said Aaron Immel, program director for First Tee – the Lowcountry. "Obviously we teach them golf, because when kids are new to the game it helps to learn chipping, putting, full swing, etc. But the second part we focus on is life skills. We talk about things like growing with grit and persevering through challenges."
That is, of course, what First Tee is all about. Their regular programs throughout the year not only teach young players the fundamentals of the game, they impart lessons and values. Nine of them, to be exact. Their nine core values—honesty, integrity, sportsmanship, respect, confidence, responsibility, perseverance, courtesy and judgment—inform every lesson.
But learning golf and learning life skills, those are only two dimensions. We were promised three, were we not?
"The third part is more fun-oriented," Immel said. "These really are camps, and we want them to have the feeling of camp. So, we have things like water balloon fights, or we play golf baseball, which is played with tennis balls or a kickball. It's golf, and it's also a lot of fun."
Of course, as with any summer camp experience, in the end it's really about the friends you make along the way.
"Our summer camps are a great way to keep kids active as well as interactive with new friends and peers," Immel said. "It's great to see these kids start out as almost strangers on the first day and fast friends by the end of it."
And if that's not enough, they get to spend their summer at the massive First Tee – the Lowcountry campus. Since it opened, the 325-yard driving range, 6-hole par-3 course and 9-hole disc range have made this outdoor wonderland a huge destination for locals. You might be tempted to get in a few rounds while the kids are off learning the game and making friends.
"All we ask is a suggested $10 donation and you get free range," Immel said. "It's a lot of fun and a great place to learn."
You can visit firstteelowcountry.org for more information on signing your kids up. You can also sign up for the $60 a month plan, which gives you unlimited access to the campus' amenities. You might need it. It's going to be a long summer.