How does a Northern banker and CEO of a global communications company invest in a marina in the Lowcountry—and, almost 30 years later, launch a go-kart track on Hilton Head Island? It's just an entrepreneur's journey down one road that leads to the next.
In 1993, the road led boat lover Roger Freedman to the foreclosed Broad Creek Marina. As an absentee owner, he let the business steer itself until around 2005, when he rebuilt the marina and dry storage barn to withstand Cat 3 hurricanes. And he converted the funky little offices to the funky little Up the Creek Pub & Grill. His motor was now really running on Hilton Head Island.
But speed and thrills didn't happen overnight. In 2009, during the economic downturn, Freedman abandoned plans for a Broad Creek Marina Village of 37 charming homes. While touring the property with Ron New, a timeshare executive, New suggested turning the property into a zipline canopy tour amidst the magnificent live oaks throughout the area. Freedman had never heard of a zipline but thought it was a perfect fit with HHI. His entrepreneurial drive revved up, it was full-speed ahead.
A decade ago, Freedman added the two-hour zipline canopy tour attraction, which boasts the highest point in the Lowcountry when you stand atop their 80-foot tower, five feet higher than Harbour Town Lighthouse. With seven ziplines including a two-person, dual cable racing zipline finale, two Indiana Jones-like bridges, and an aerial winding staircase, ZipLine HH has welcomed over a quarter of a million guests. They included a groom proposing on a tower, a 93-year-old man, and reality stars for shows on HGTV and MTV.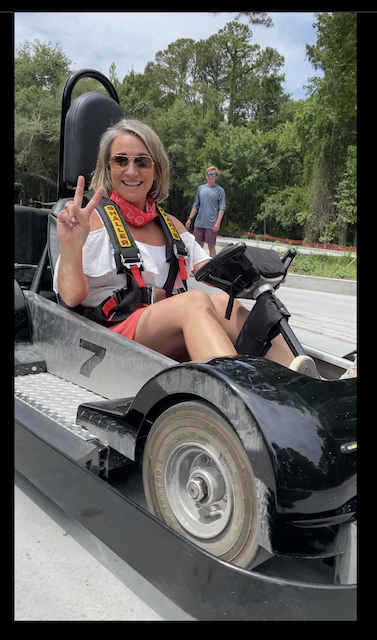 Currently, most activities at Adventure Hilton Head and Broad Creek Marina involve thrills and speed. Lowcountry ain't slow country on this 15-acre site off Marshland Road. And that's why after turning many corners and curves, the new, highly-anticipated go-kart track and its very cool electric go-karts have finally launched.
The go-karts are somewhat a result of a visionary yet disappointing pursuit Freedman had with Daufuskie Island development. His big idea was to create a Daufuskie Village with residential and workforce housing, recreational attractions, urgent care and retail—a concept Freedman chose not to pursue at this stage in his life. A go-kart track was an important yet simpler project he felt he could zoom right through.
"I used to say, 'If I fail with Daufuskie Village, I'll be doing a go-kart track!'" he chuckled. Staying true to his pioneering spirit, the starting gate for GoKart HH opened on June 30, adjacent to the other attractions at Adventure Hilton Head and down at the Broad Creek Marina docks.
Freedman was determined and fully fueled when it came to building this exhilarating addition for both locals and tourists. "We always had the right to do the go-karts, but there were just a few who couldn't see its value for the island. But for most and for many, it is a most welcomed outdoor attraction. As they loudly stated during a 2019 Town Hall meeting, "Hilton Head needs this.'"
Adventure Hilton Head offers perfect multi-generational outdoor adventure with that "living-life, bucket-list" spirit. "We're just thrilled our guests can enjoy outside fun with each other. Let's face it, who isn't happy cruising in a go-kart?" Freedman added.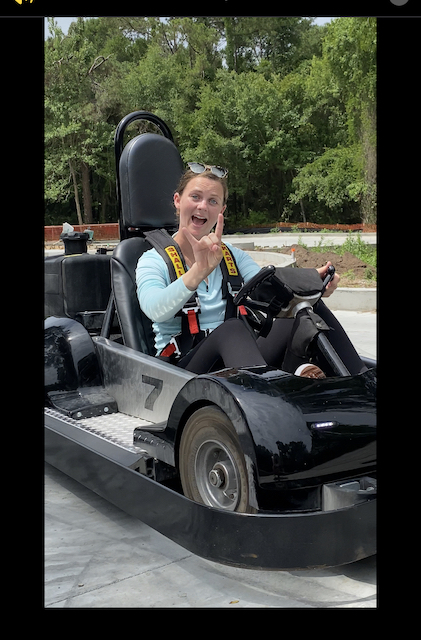 "Things got pretty crazy around here during the go-kart track construction," said Nate Jones, VP and general manager of Adventure Hilton Head, Broad Creek Marina and all its subsidiaries. "We were so fortunate that both our marina and Up the Creek Pub & Grill have been thriving these past months. But to jump right into go-kart development during the pandemic, we really had to put all gears into warp speed."
Jones, who grew up on the island, has two young children and is confident this is the right adventure at the right time to enhance the island experience in 2021. Now, with the zipline tour and the aerial adventure opened, demand is high, and Jones recommends reservations for all Adventure Hilton Head activities through myadventurehiltonhead.com.
In addition, a new food truck, Paddles!, on the Broad Creek waterfront has opened in order to meet the demand for fun food. "Nothing beats these tranquil creek views while casually hanging at the water's edge with a brew and a burger," said Charlotte Evans, Up the Creek and Paddles! manager.
For Freedman, this has all been so rewarding, especially seeing such joy from his customers, family, friends and even special guests like the Boys & Girls Club of HHI. "People stop us and thank us, raving about the absolute blast their family had zipping, climbing, swinging and jumping, whether on our zipline or ropes courses," Freedman said. "We always get a kick out of it."
"It always is something when we walk through Up the Creek and someone asks, 'Are you the owner?' Then they proceed to tell us this is the best hamburger they ever had. We are humored and humbled," Freedman's wife Pam added.
So, what's next for Freedman? First and foremost, it's spending more time with his kids and grandkids who were at the launch after 18 months of not being together due to the pandemic.
Second, it's rebuilding one of the two marina piers and adding 70 new dry storage racks to meet the high demand. (Currently, 90 boats on a waiting list for storage.)
And revving up the Hilton Head Island fun this summer, the Freedman's are continuing to celebrate here, socializing with their wonderful friends and business associates post-go-kart launch.
Adventure Hilton Head is located at 33 Broad Creek Marina Way on Hilton Head Island. For more information, visit myadventurehiltonhead.com or call (843) 682-6000.
The GoKart Experience
One-passenger go-karts $15/ride
Two-passenger go-karts $20/ride (passengers age 3+)
Attendants always on duty
Hours: 9 a.m. to 10 p.m.
Nighttime lighted track