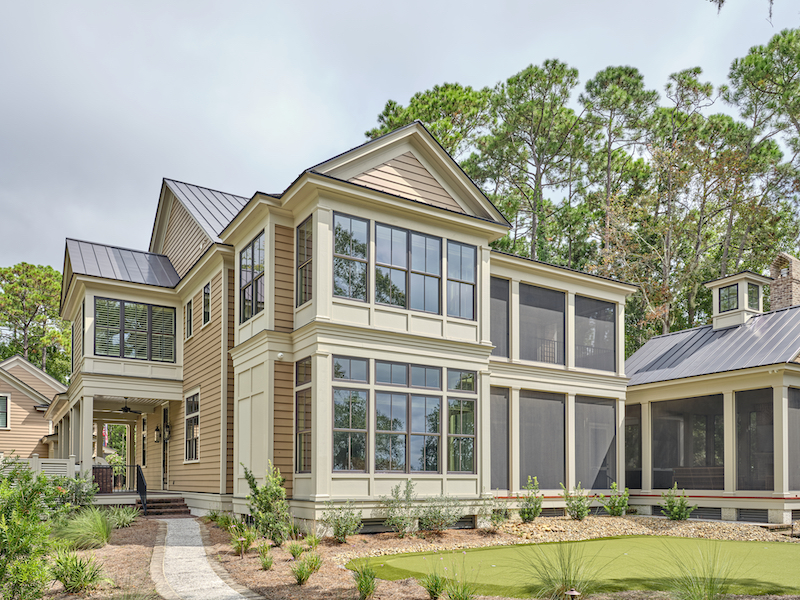 "John first brought me to Beaufort to play a round at Secession Golf Club. I immediately fell in love with the incredible beauty of the Lowcountry and knew right then I wanted to live here," Lisa said.
The couple shopped around for a while, exploring other Lowcountry communities and keeping an eye on less trendy, more authentic qualities in their potential new neighborhoods. In the end, an intuitive Realtor led them to a remote corner of Beaufort along the Port Royal Sound.
"We chose our new neighborhood because it offers everything we wanted: deep water access and the ability to have a private dock, easy access to the Intracoastal, golf, shopping, restaurants and beaches within minutes of our new home," Lisa said.
"Beaufort is a wonderful historic town with great people and abundant remarkable wildlife," she added. It's also a welcome change of pace for Lisa, who maintains a critical leadership role as a Managing Director for the global wealth management firm, Morgan Stanley.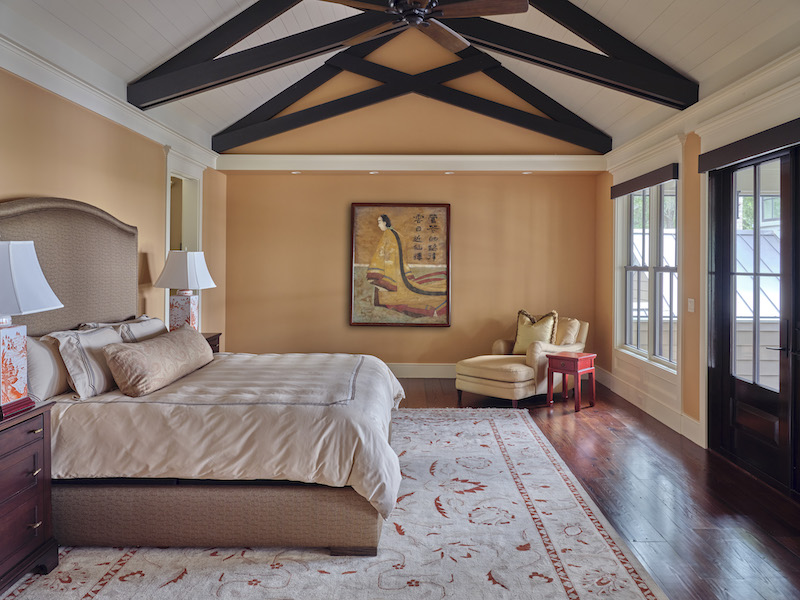 She and John selected Court Atkins Group to steer the architectural design of their island home. Since they purchased the property in 2004, they had plenty of time to create a wish list. Once they had their preferred local builder, Powell Brothers Construction, in place they provided a vision statement to CAG president William Court, describing how they hoped their new home would flow and feel.
"The Cregan residence rises on a remote southern-facing marsh front with a fabulous cove adjacent to the outdoor screened living area," Court said. "So, the house is intended to be a blend of casual and graceful Lowcountry elements with wraparound porch, integrated dormers and a sweeping panoramic outdoor living environment."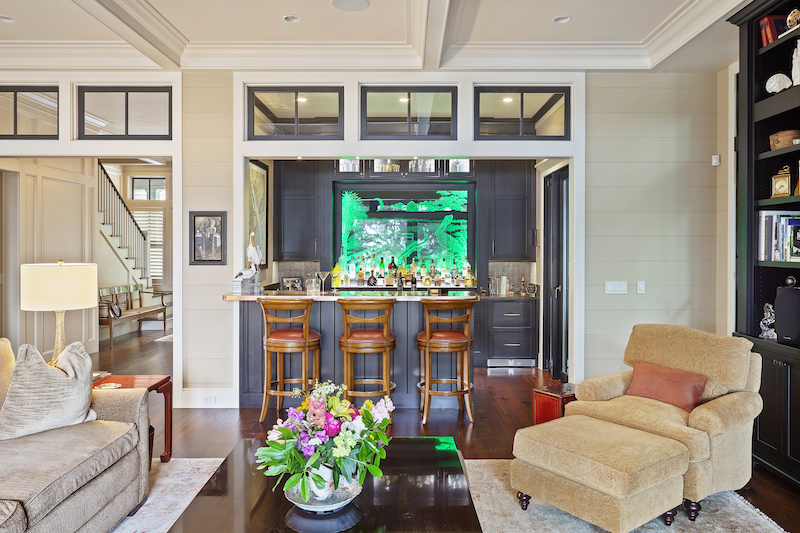 CAG associate Jen Foster teamed with Court on the home design and noted the intentional separation of living spaces. "In order to ensure we didn't overpower the main house, the garage and carriage house spaces are separated into a series of components that are connected by breezeways and lower roof formed elements," she explained.
Washington DC design maven Margery Berringer Schuran guided the Cregans' approach to interior choices. "She is magical with colors and actually created the artwork for the etched Pelican Bar mirror," Lisa said. "She helped us select our palette, all the finishes and furniture, from master suite to the centerpiece, our main entry," she said.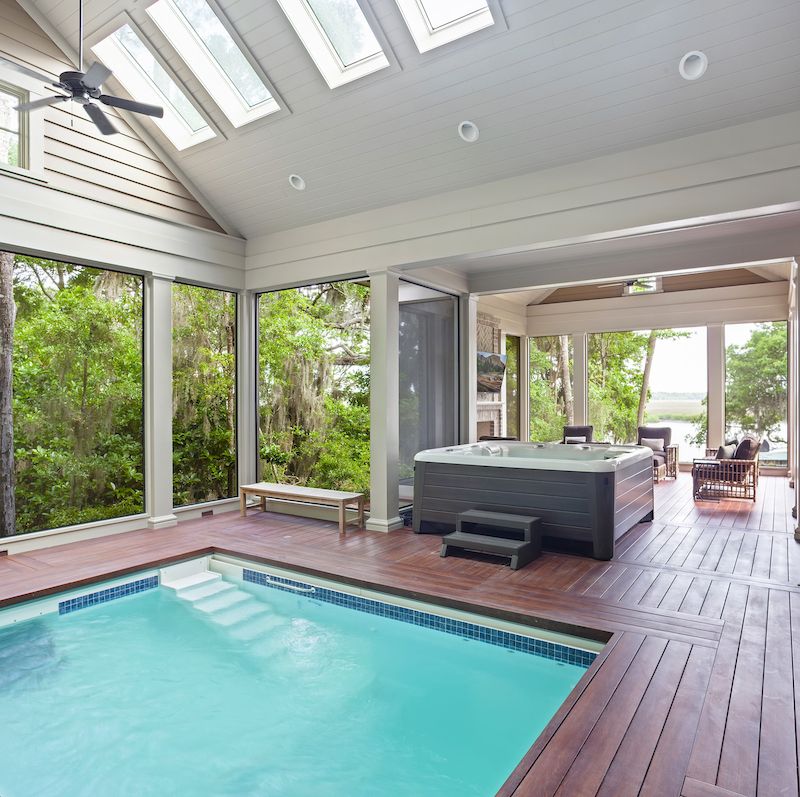 John Cregan, a PGA Teaching Professional, said he and Lisa enjoy the reaction of visiting friends and family when they walk through the front door. "The house is designed to maximize our beautiful water and marsh views, and it does just that … the entry hall glimpses are breathtaking," John said. "Our friends love how comfortable the house is and how many fun things there are to do." Among his favorite indulgences when he's not instructing golf students is sipping a cold beverage at the prized Pelican Bar or indulging in evening cocktails on "Martini Landing," outdoors on the dock.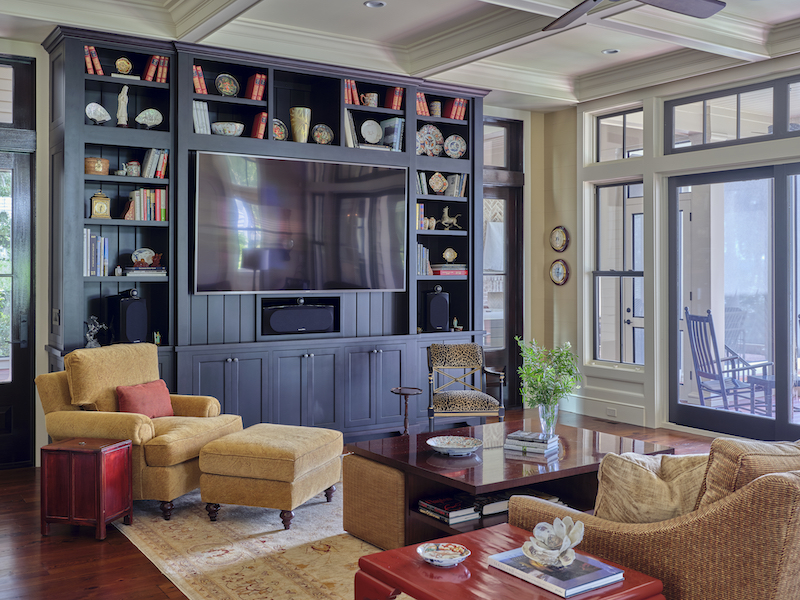 The Cregans have affectionately named their Beaufort retreat "Summer Wind," keeping in mind the familiar song lyrics by beloved crooner Frank Sinatra. They admit there is a special story behind the name they chose for the full-service custom Pelican Bar, though John insists it's better left a secret. "Let's just say the bar's named after a memorable encounter with a feathered friend during an earlier escape to Mexico," he joked.
It's safe to say John and Lisa have found their quintessential escape along the shores of South Carolina's intracoastal. They recently relocated—permanently—to their sprawling Beaufort compound and are prepared to play all summer long with countless guests at Summer Wind.